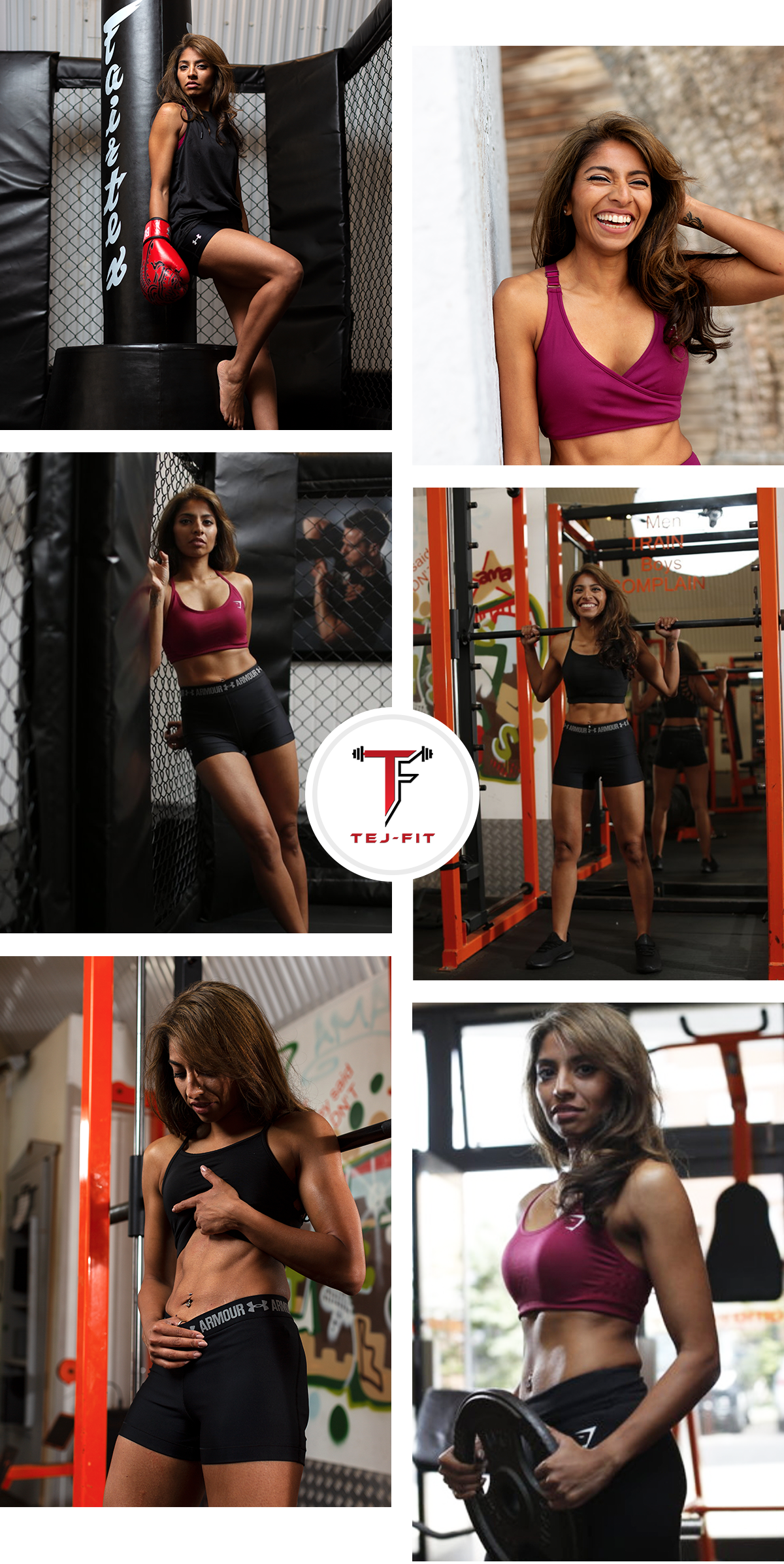 TEJ-FIT
Are you ready to become my next success story?
Are you ready to be my next success story?
One thing I know for sure – busy professionals like us, who juggle the work-family-social life situation daily, don't do well long term with fad or crash diets, pills or gimmicks.
As a previously senior corporate employee in a demanding investment banking role and mother of 2 who suffered from postnatal depression, I should know.
I was you.
You want something that works, AND sticks with you for the rest of your life.
You want to feel confident, sexy and attain peak energy & control – and with the right programme, undeniable accountability and real empowerment, you too can transform your mind & body – permanently.
The thing is, most personal trainers will divert your attention to "instagrammable" exercises and scales with vague food guidance.
But they are limited in what they can achieve.
What WE focus on is the complete package, which is why when we work together, you'll have a unique and bespoke plan JUST for you, which includes a sound training programme coupled with a specific nutritional set up – but ALSO, we will be there motivating, empowering, educating and guiding you, every step of the way, making sure you are performing at your best, in ALL areas.
In other words, we'll be your sounding board with YOUR specific goals and actions.
And once your mind is set, you will be unstoppable!
My mission and passion is not only to help you get into the best shape of your life physically and mentally, but so you can maintain it, FOR LIFE.
Success unlocks the door to your happiness, be it in through your increasing self confidence, or making more time for the things that make you feel great, but investment in yourself is the key!
So which one will it be for you?

OUR FOUNDER
TEJ
I've helped hundreds of women change their lives across the world, from all walks of life. After suffering postnatal depression after my second child, I decided to take back control of my life. I found my saving grace in weightlifting, exercise, martial arts and improved nutrition.
Having realised the profound effect that working out and fueling the body properly has, on a woman who was supposedly "past her prime", this was truly life changing. 
It was clear that so many women wanted to transform their own lives, and it was a cue for my calling to switch my career – and embarking on various qualifications, as a Personal Trainer and Coach, with Pre and Post Natal too – so I could help others like me, do the same through mindset coaching and empowerment and reveal their true and best selves.
 So now, I will help you on your journey to YOUR goals and most fulfilled life!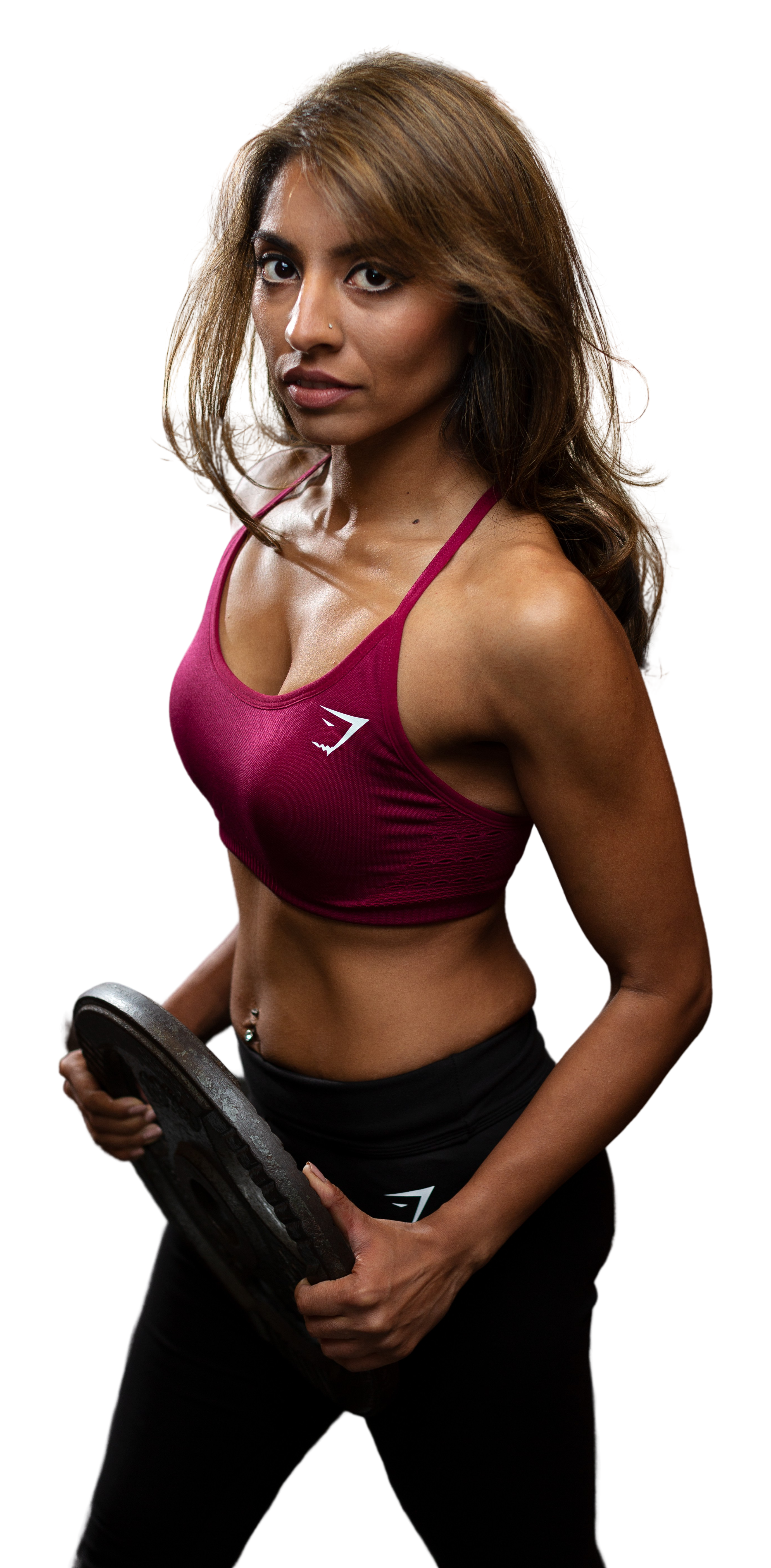 The transformations speak volumes – but take a look at what the Warrior Women have to say about their experiences with us!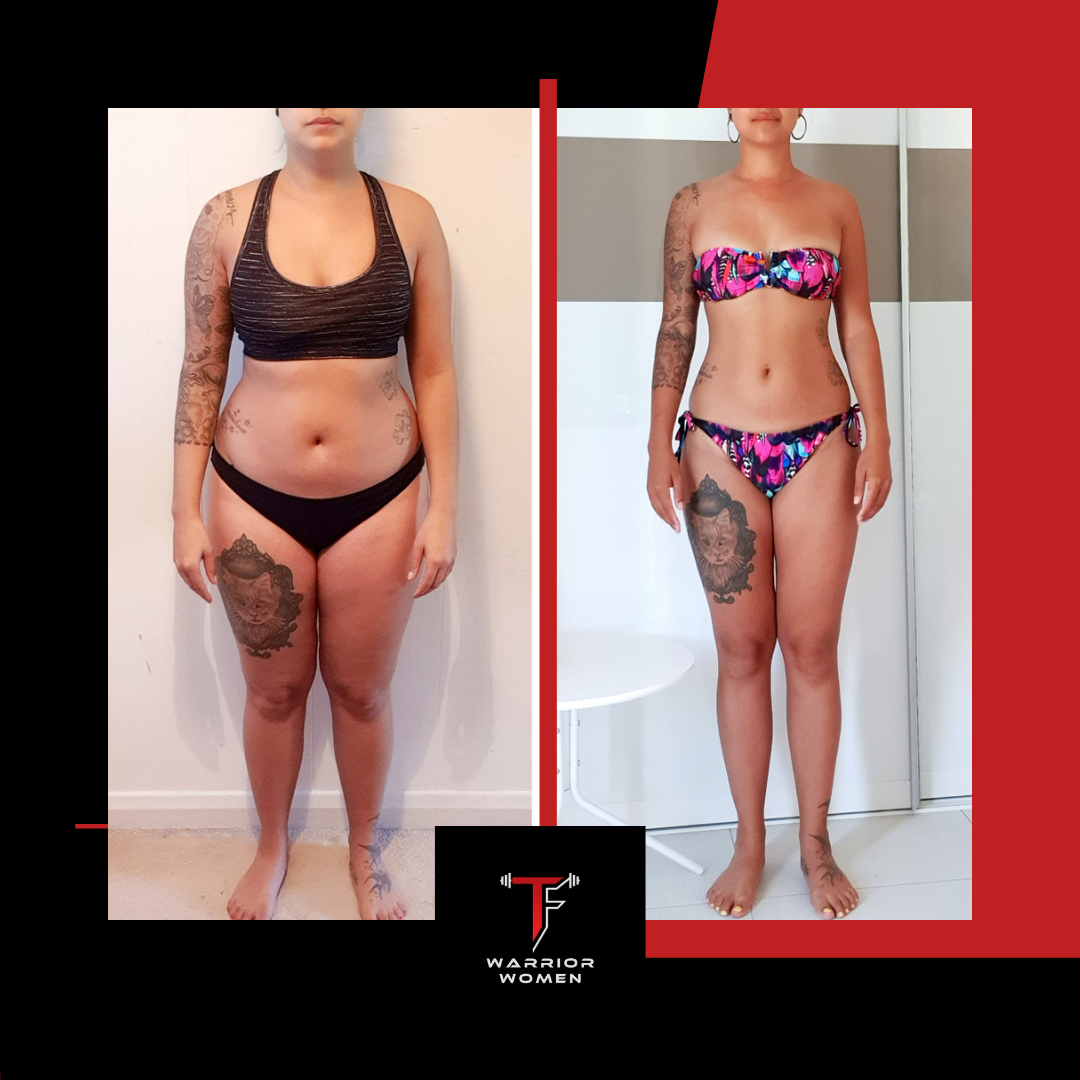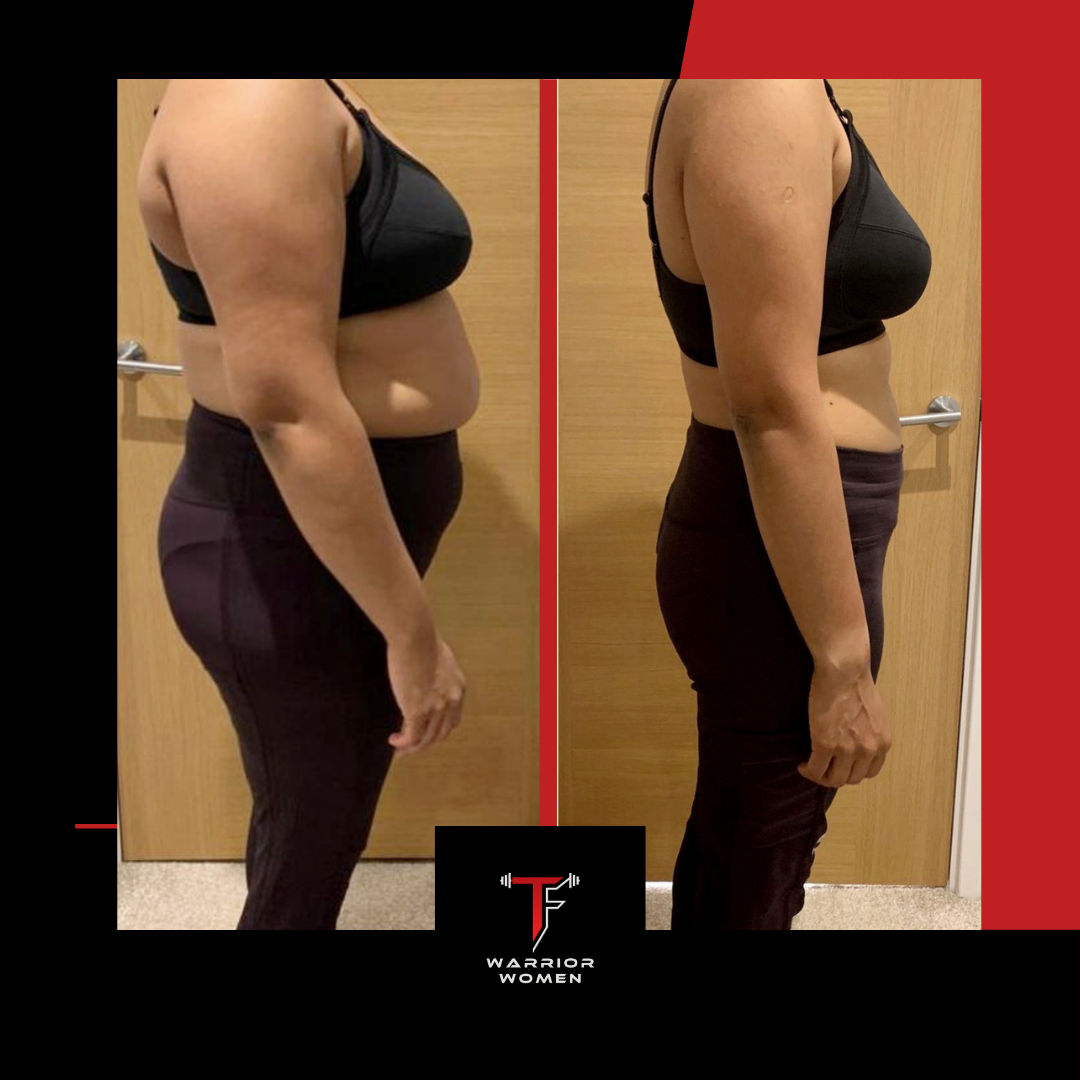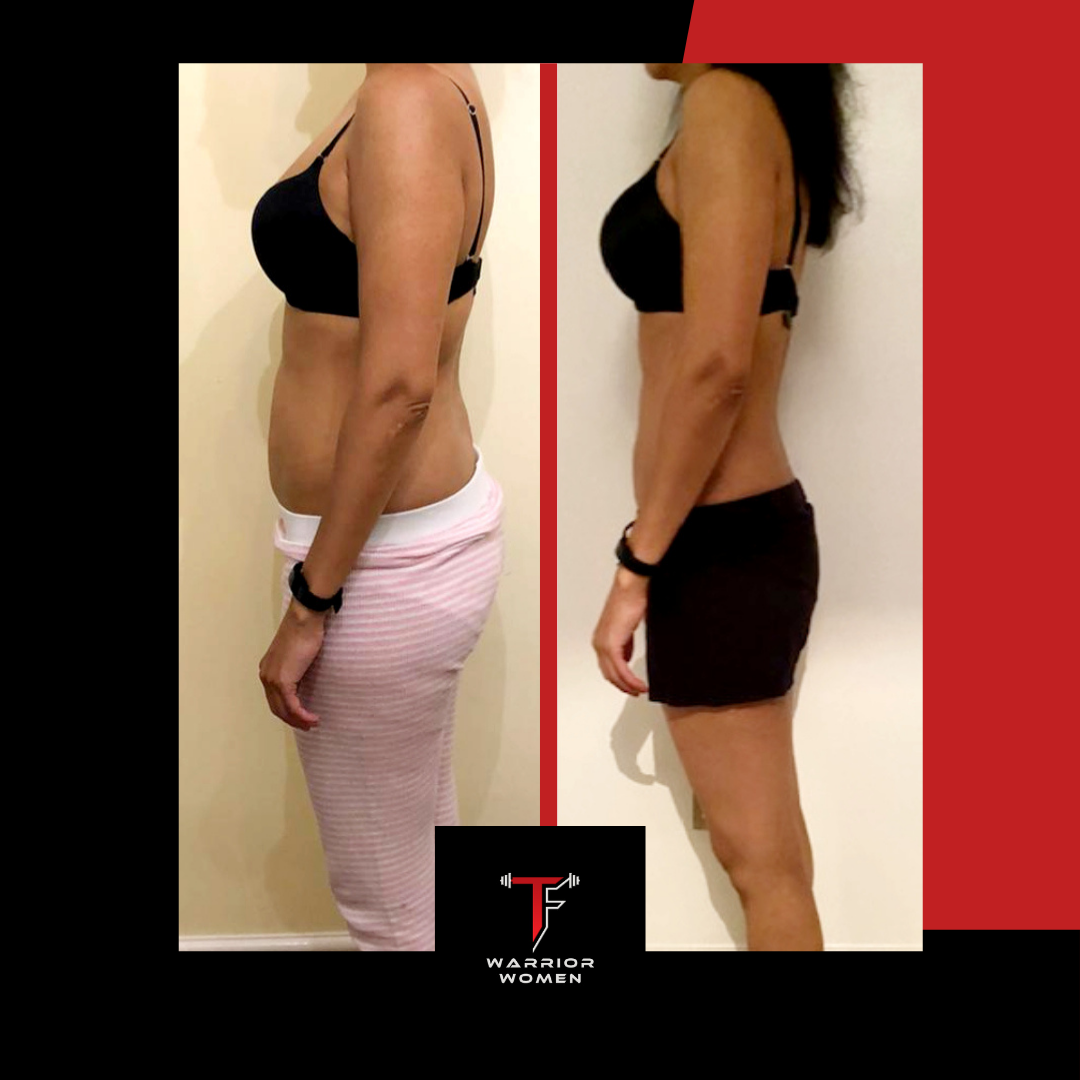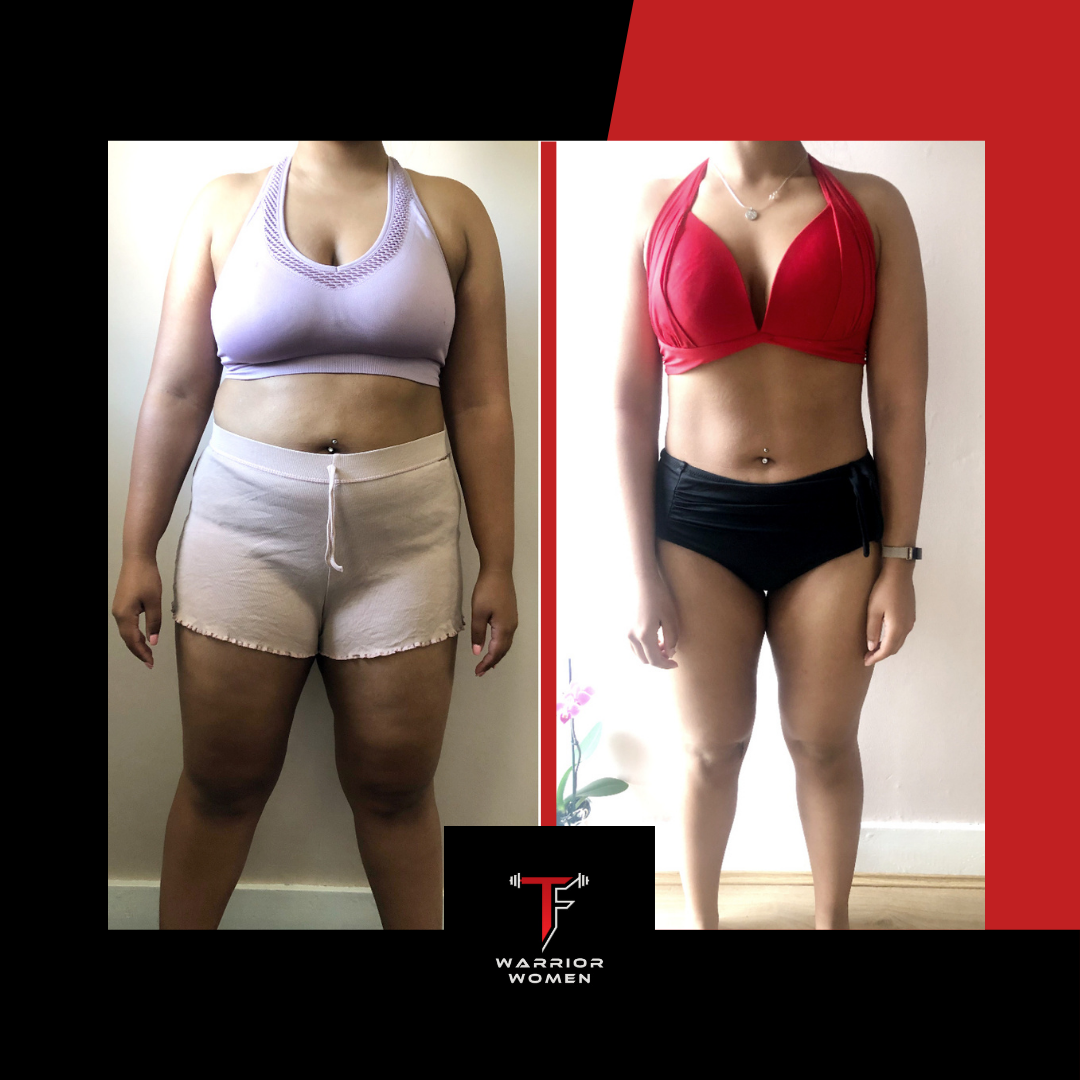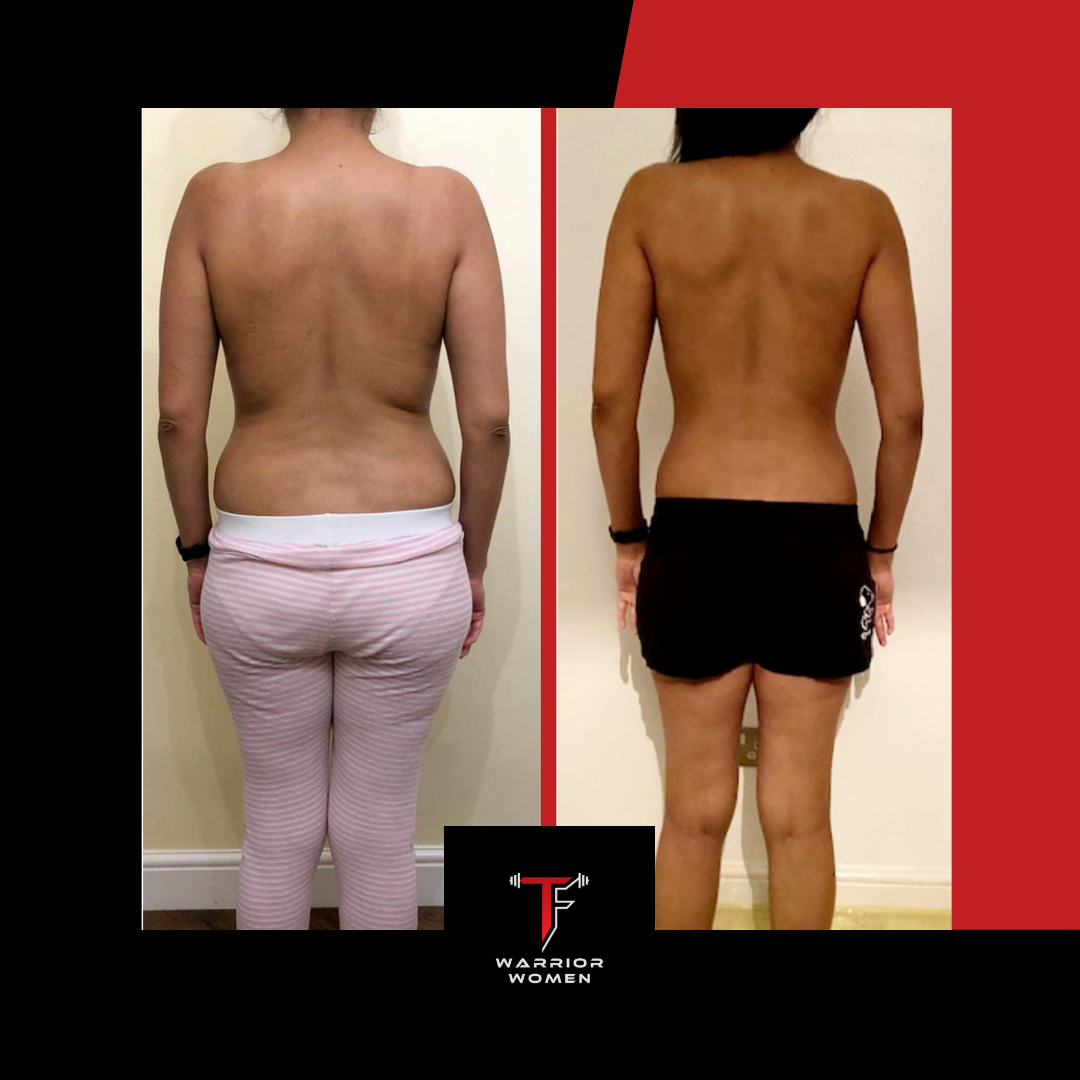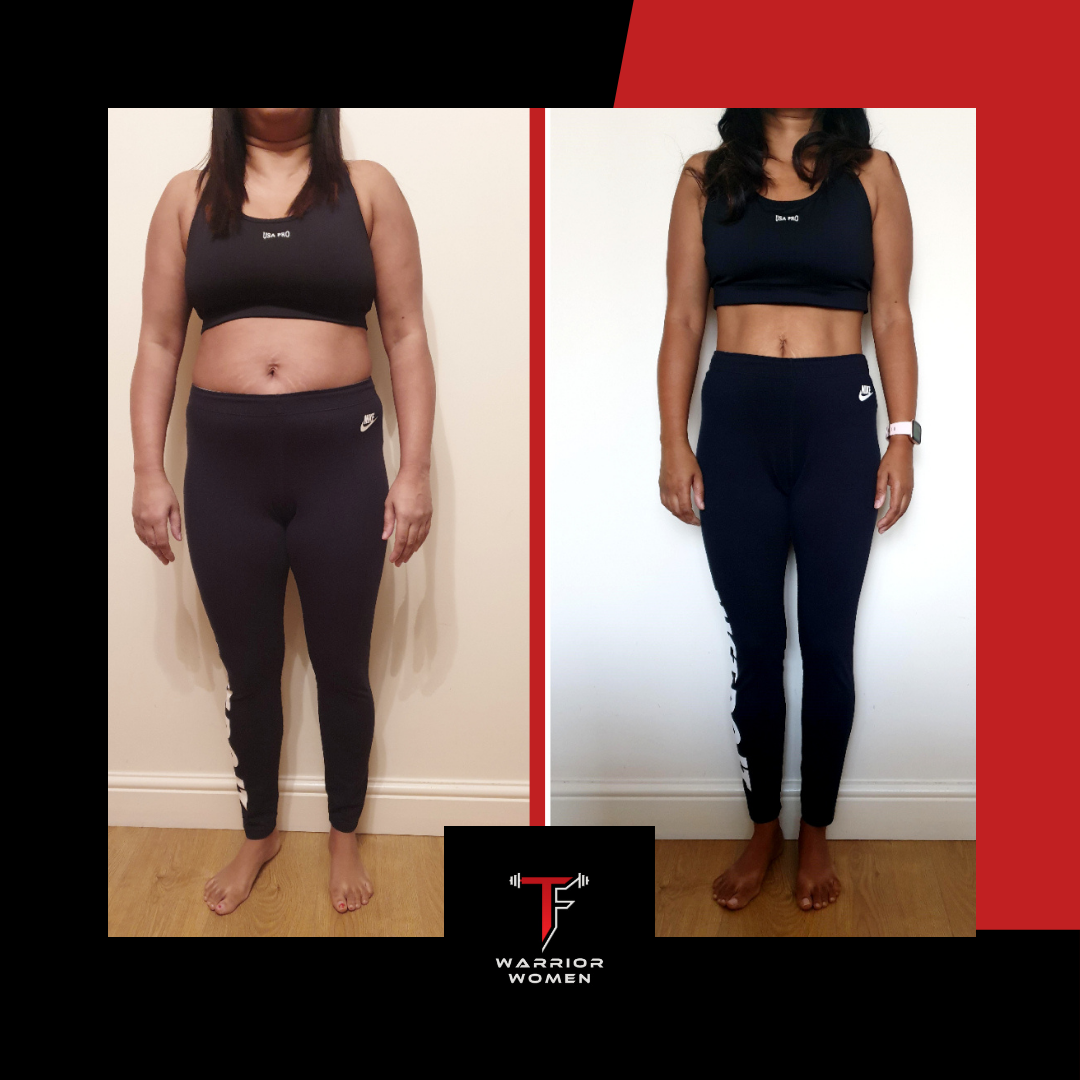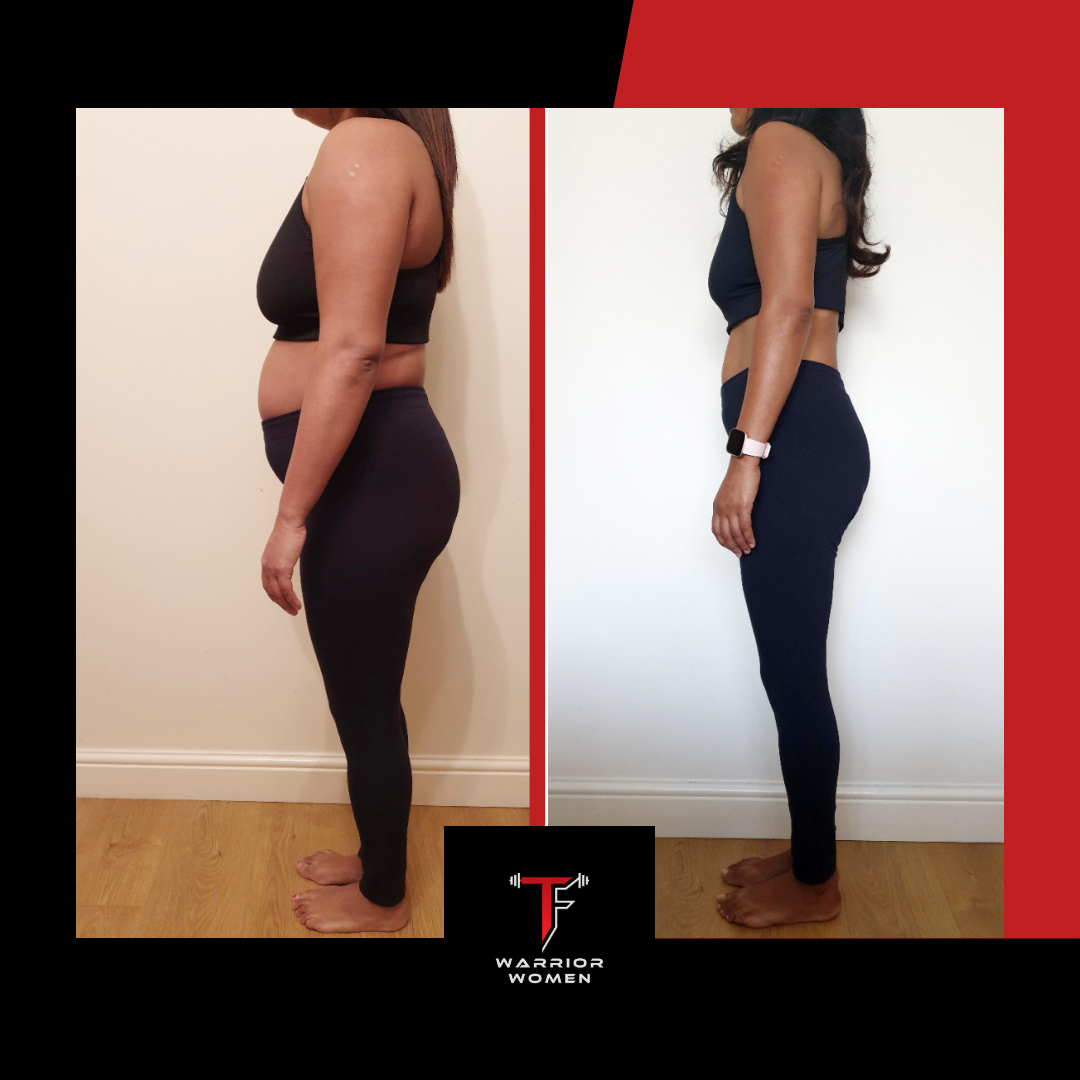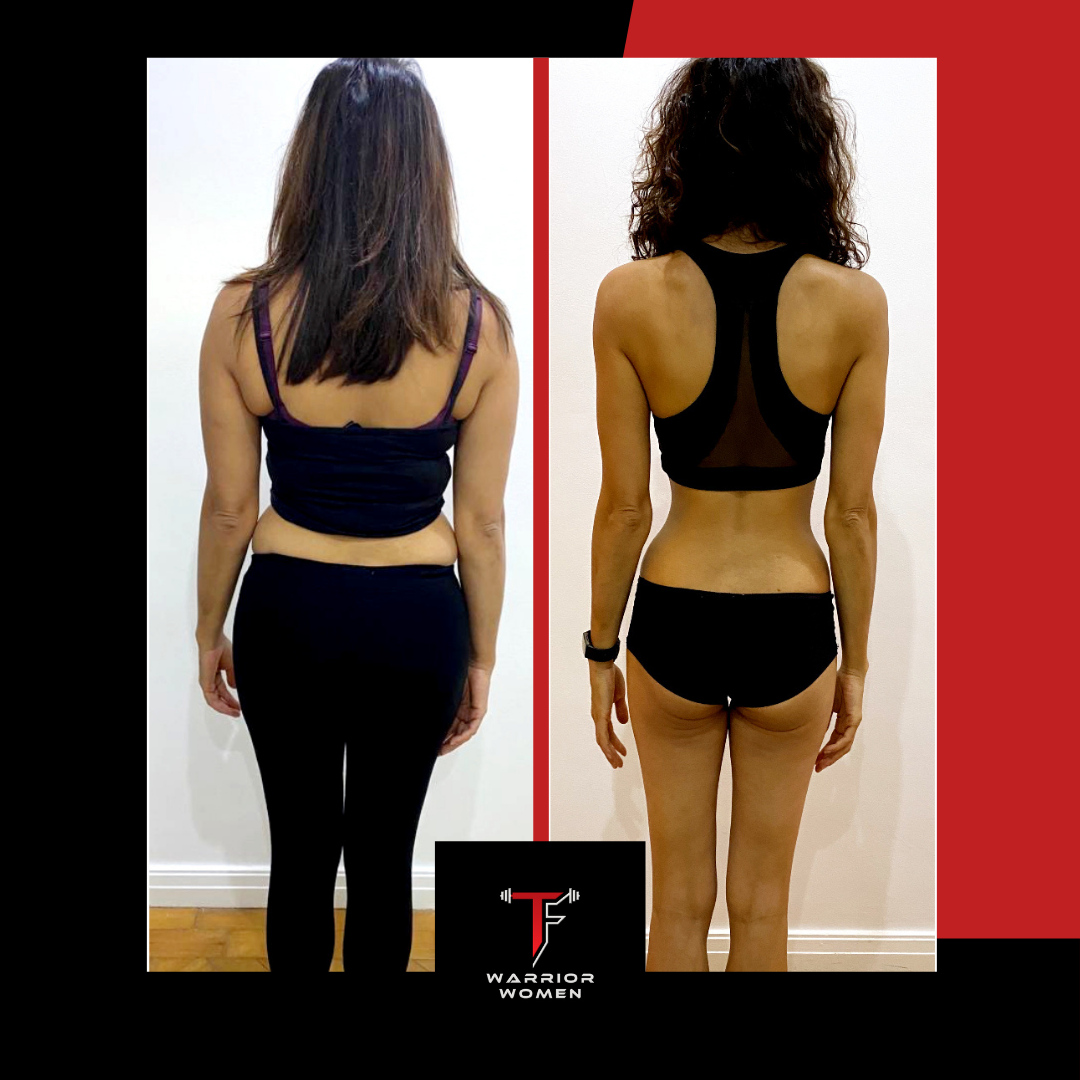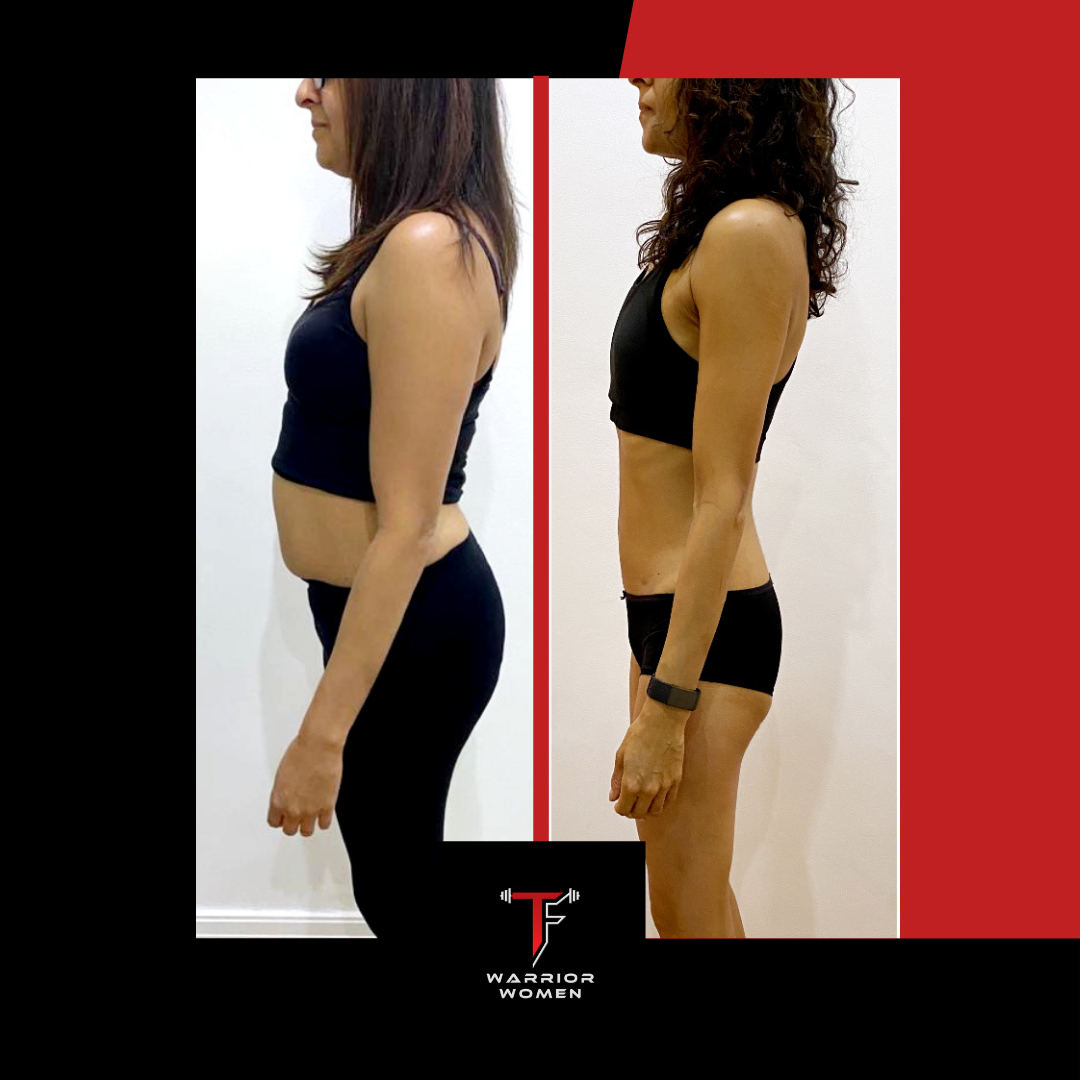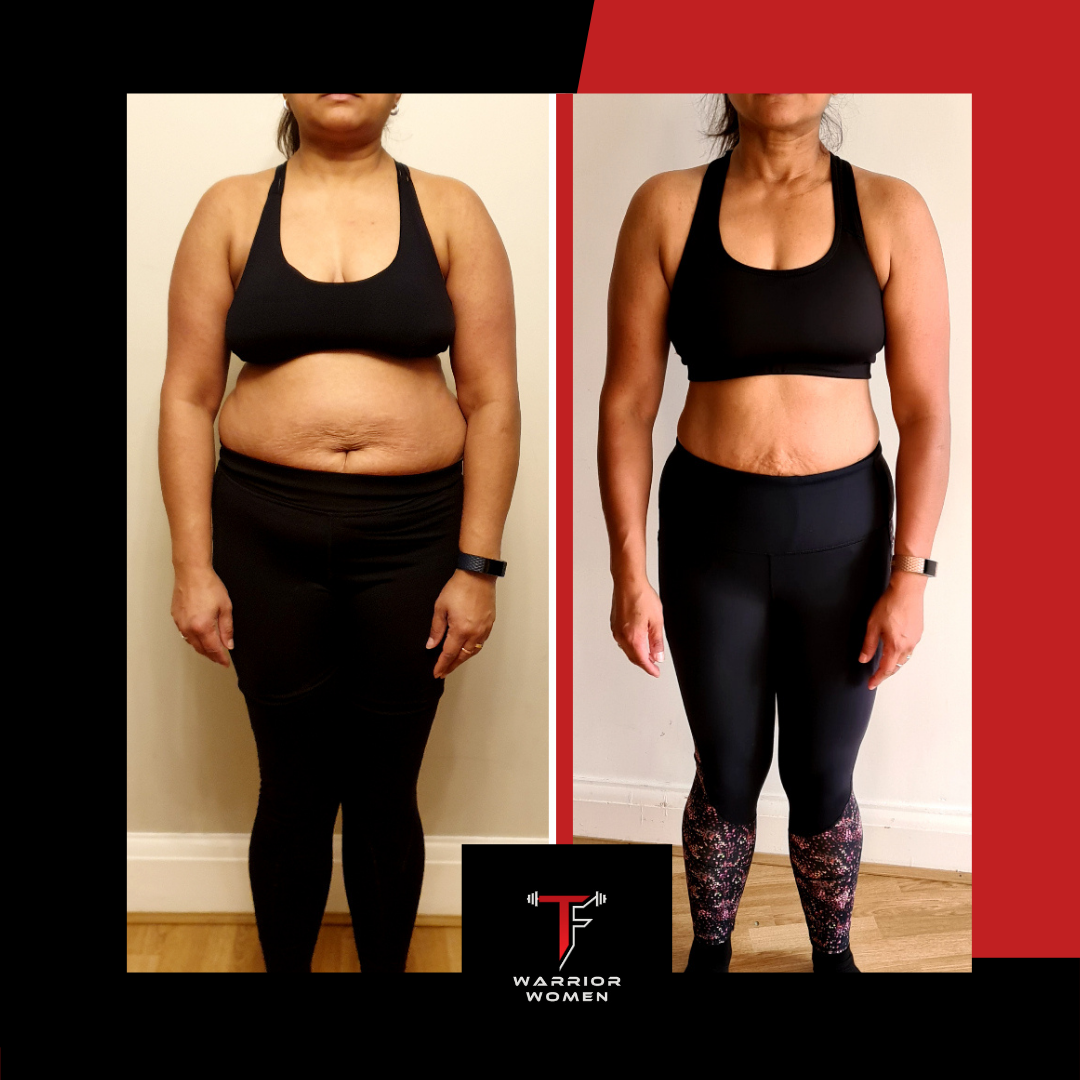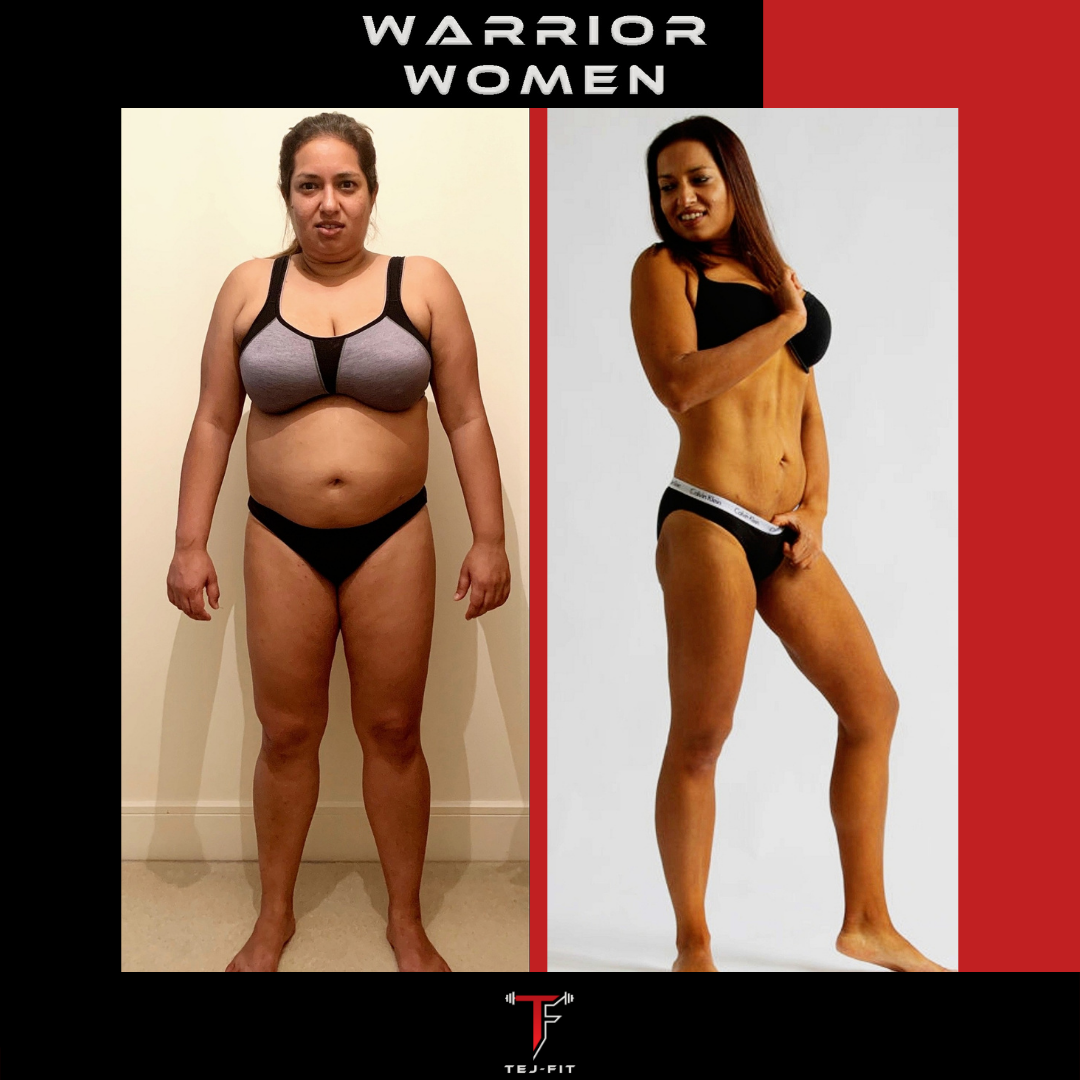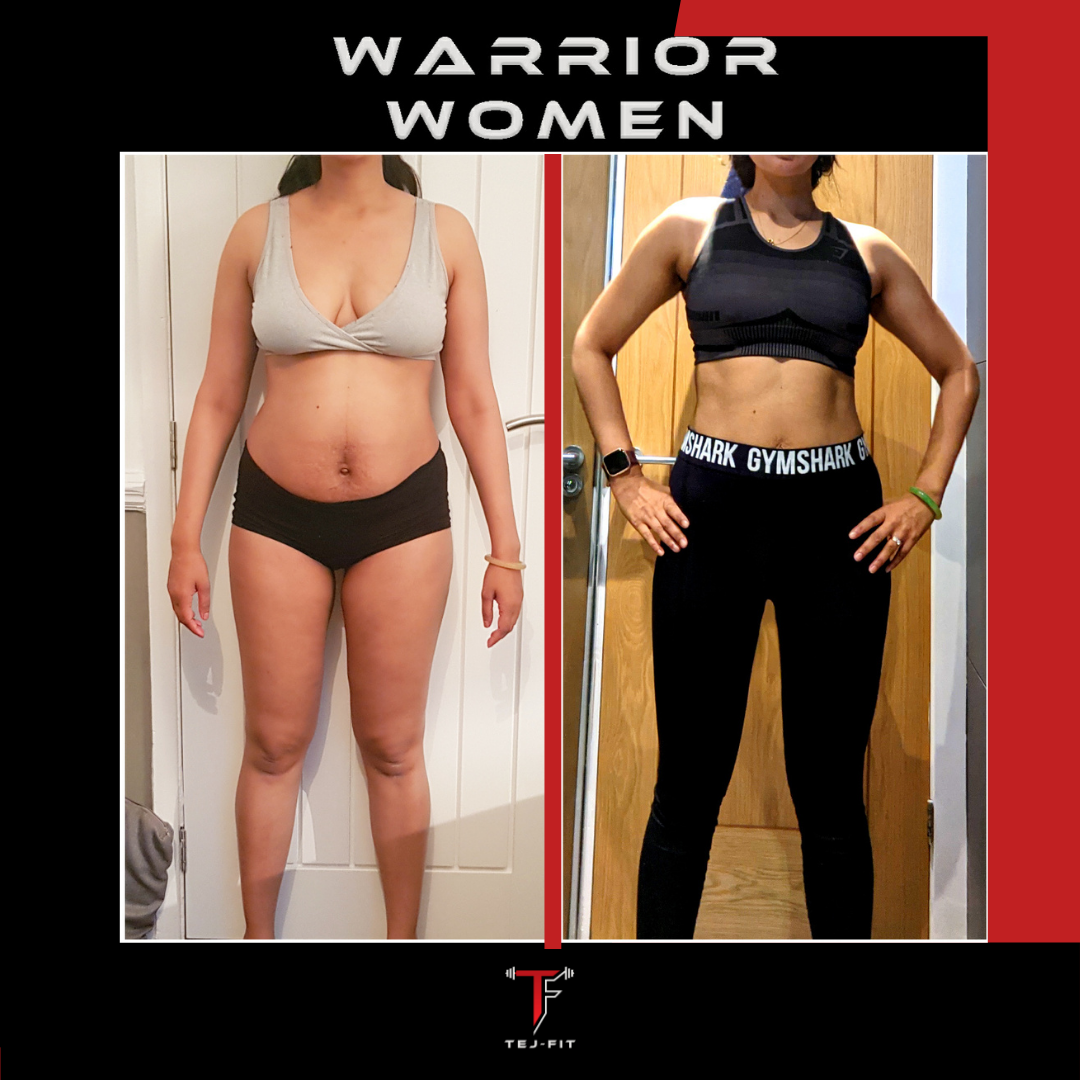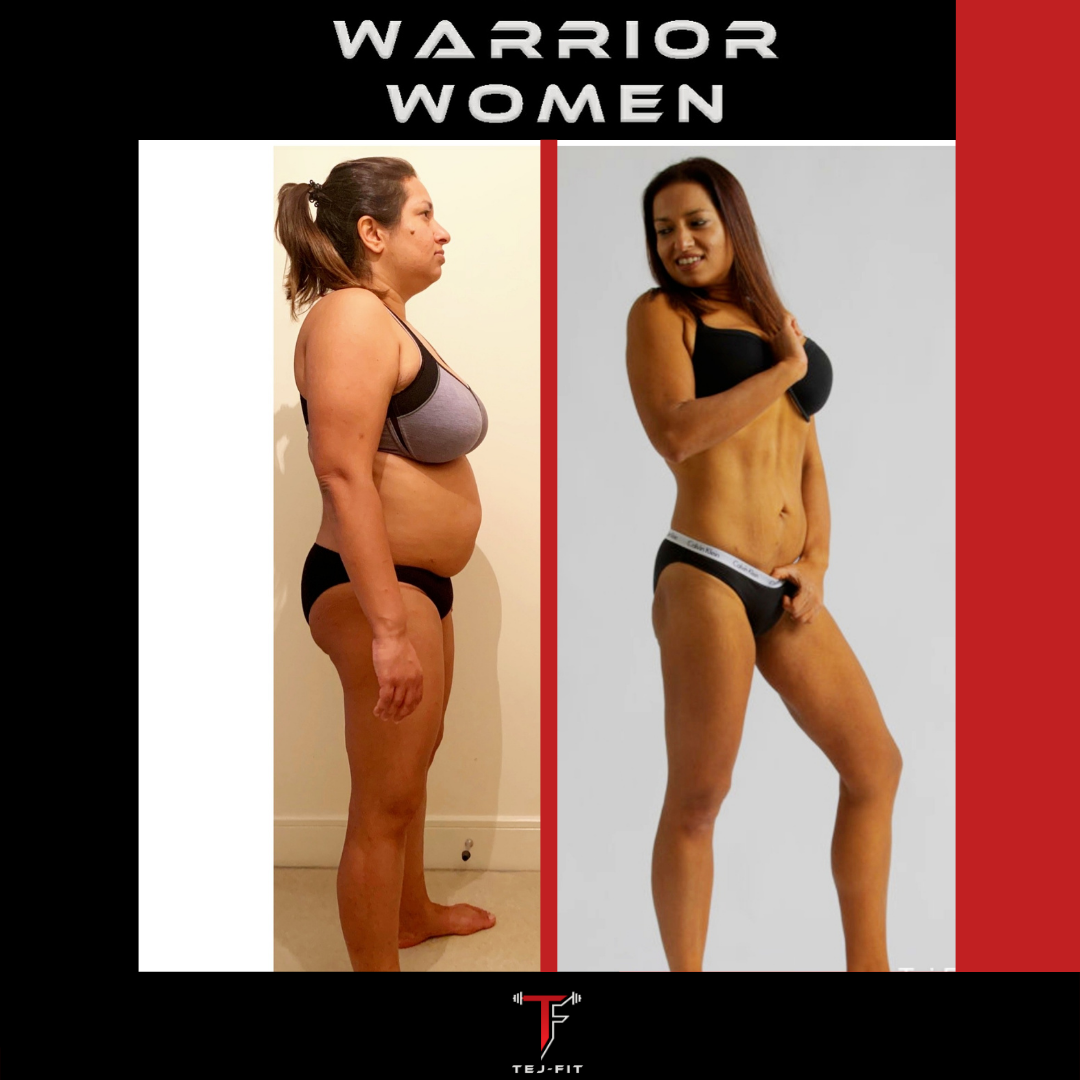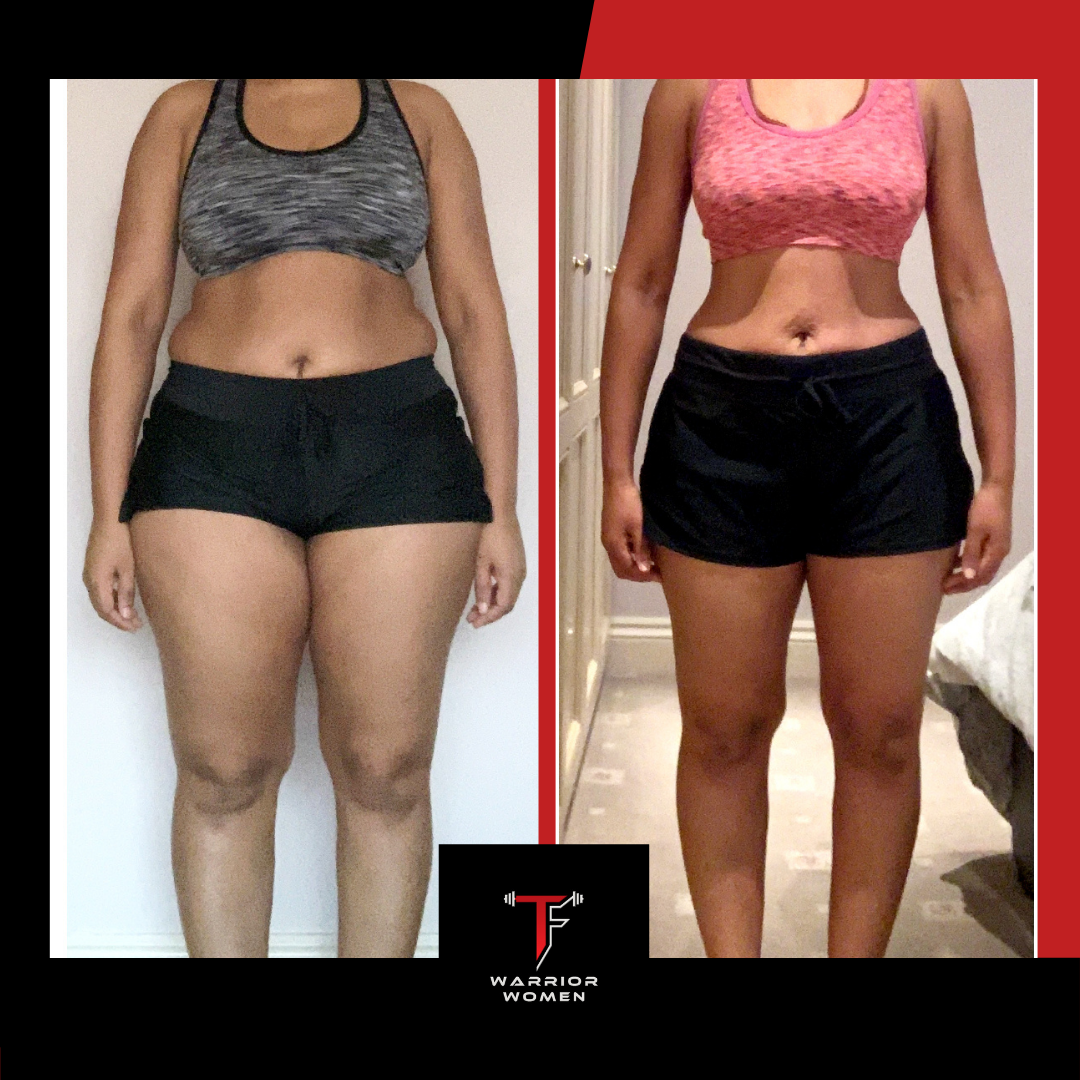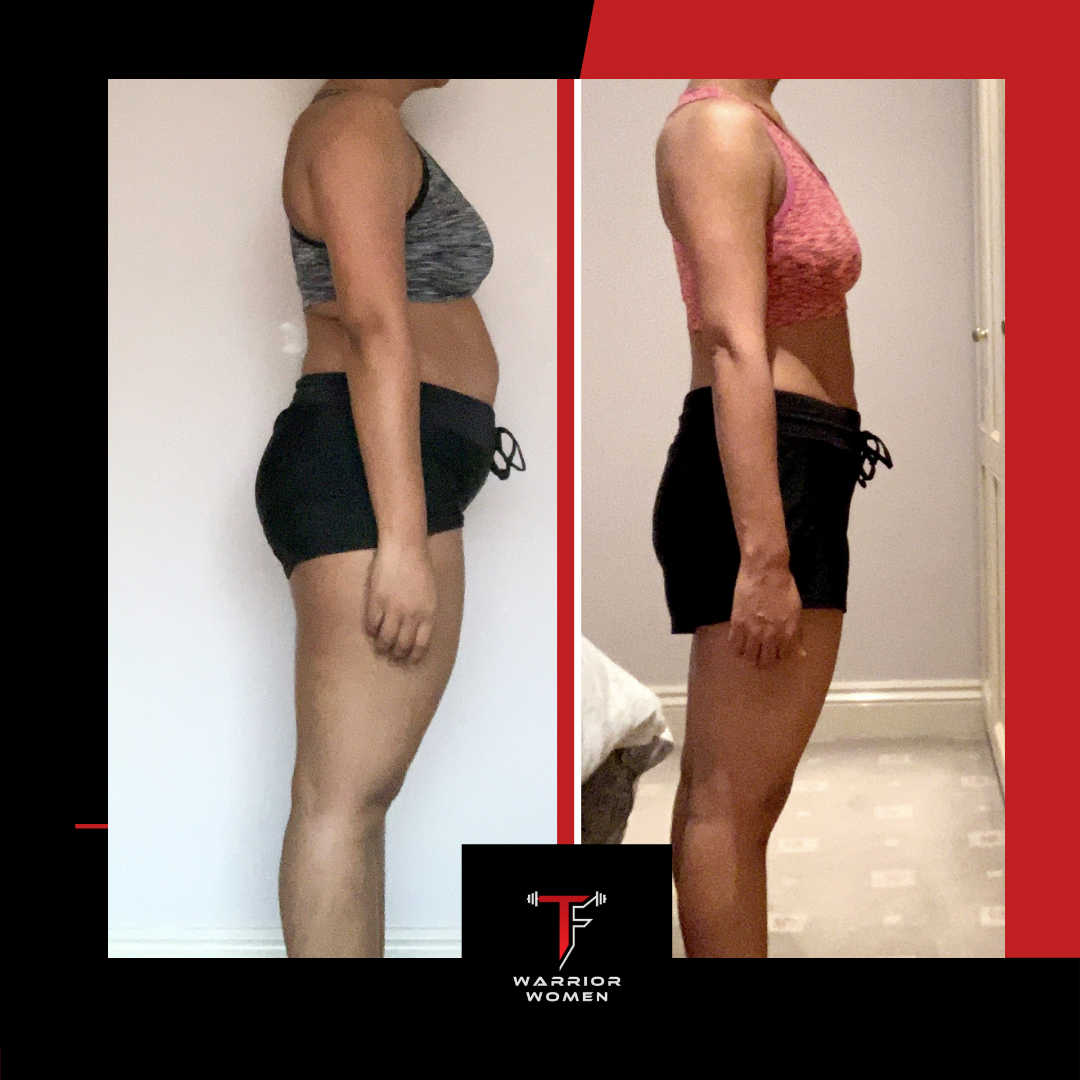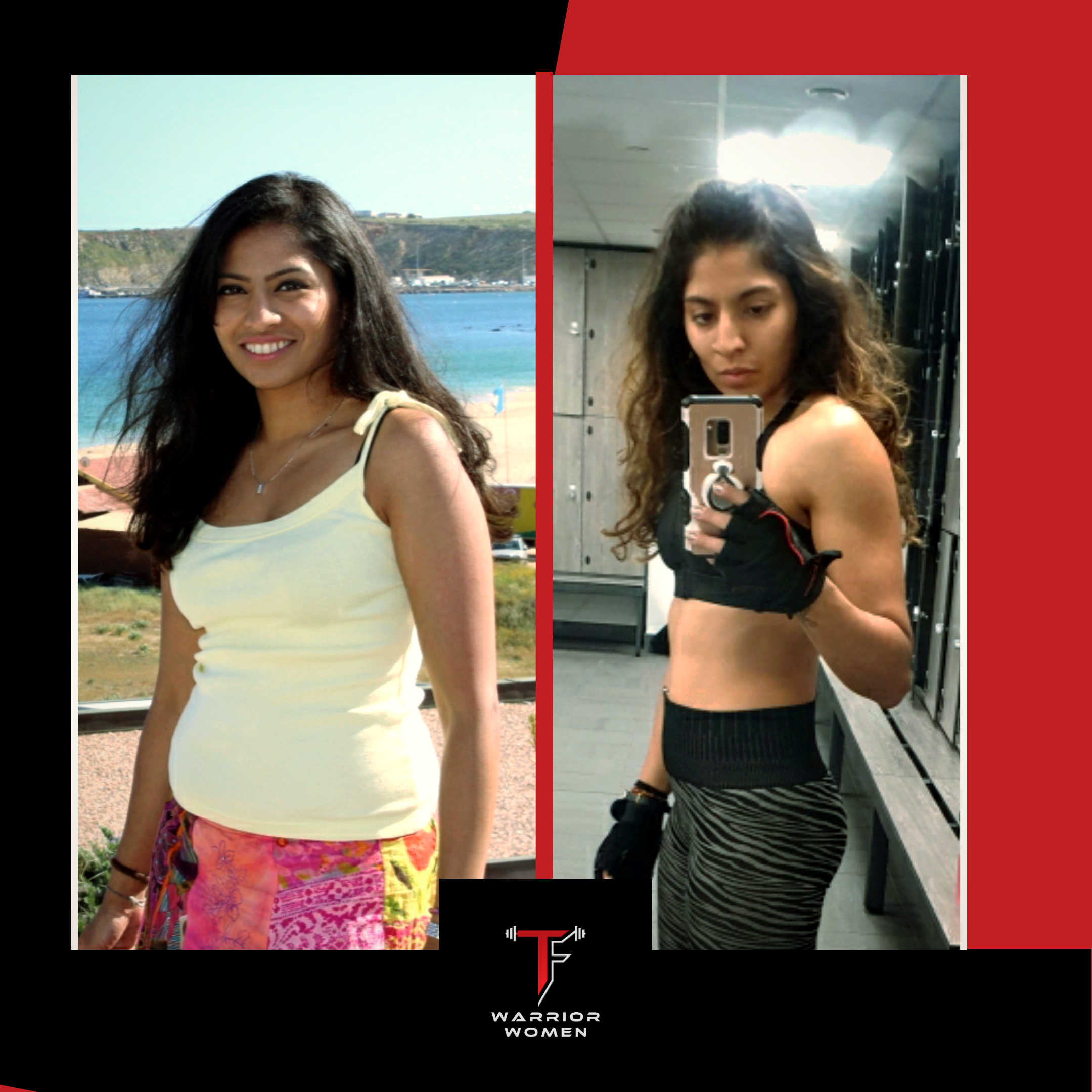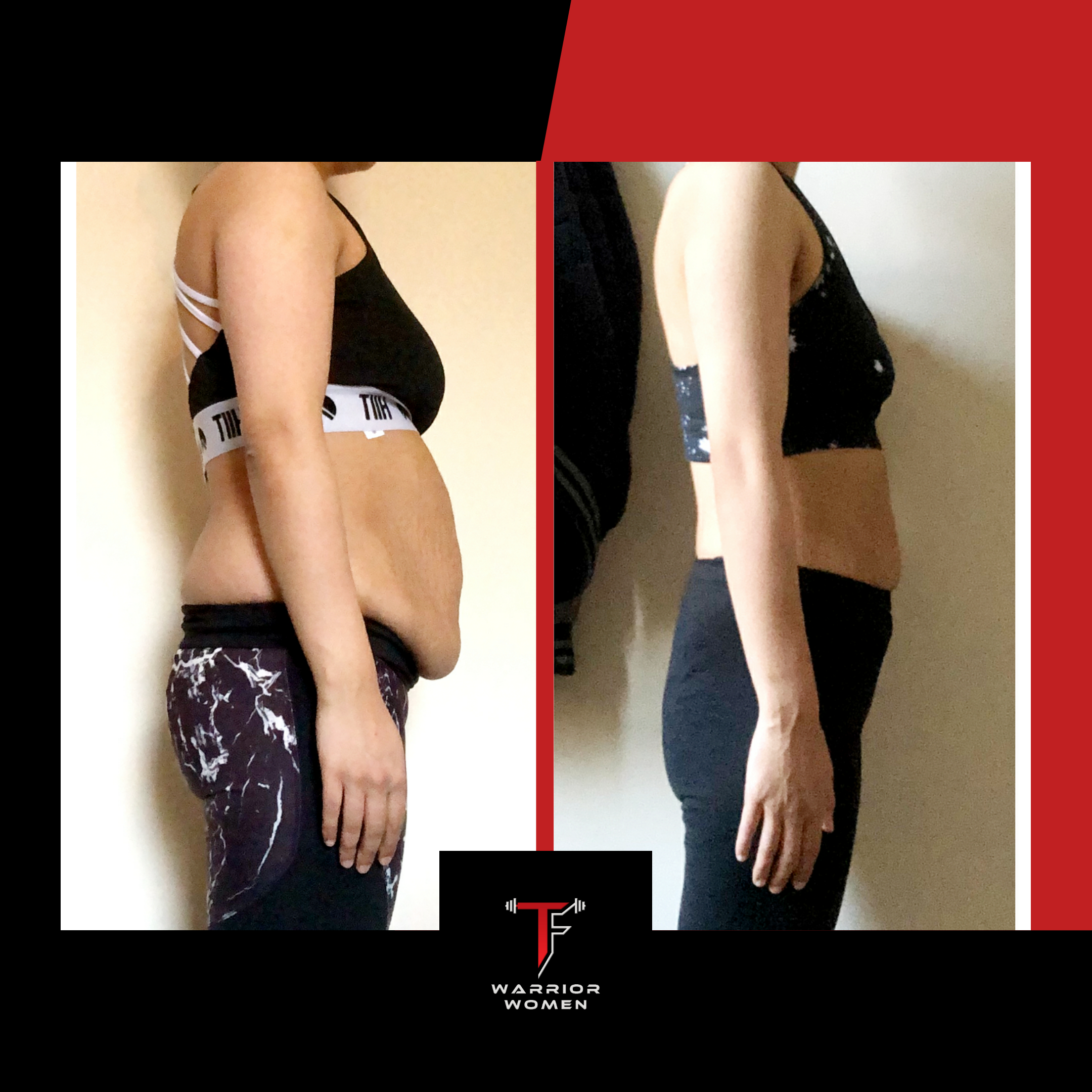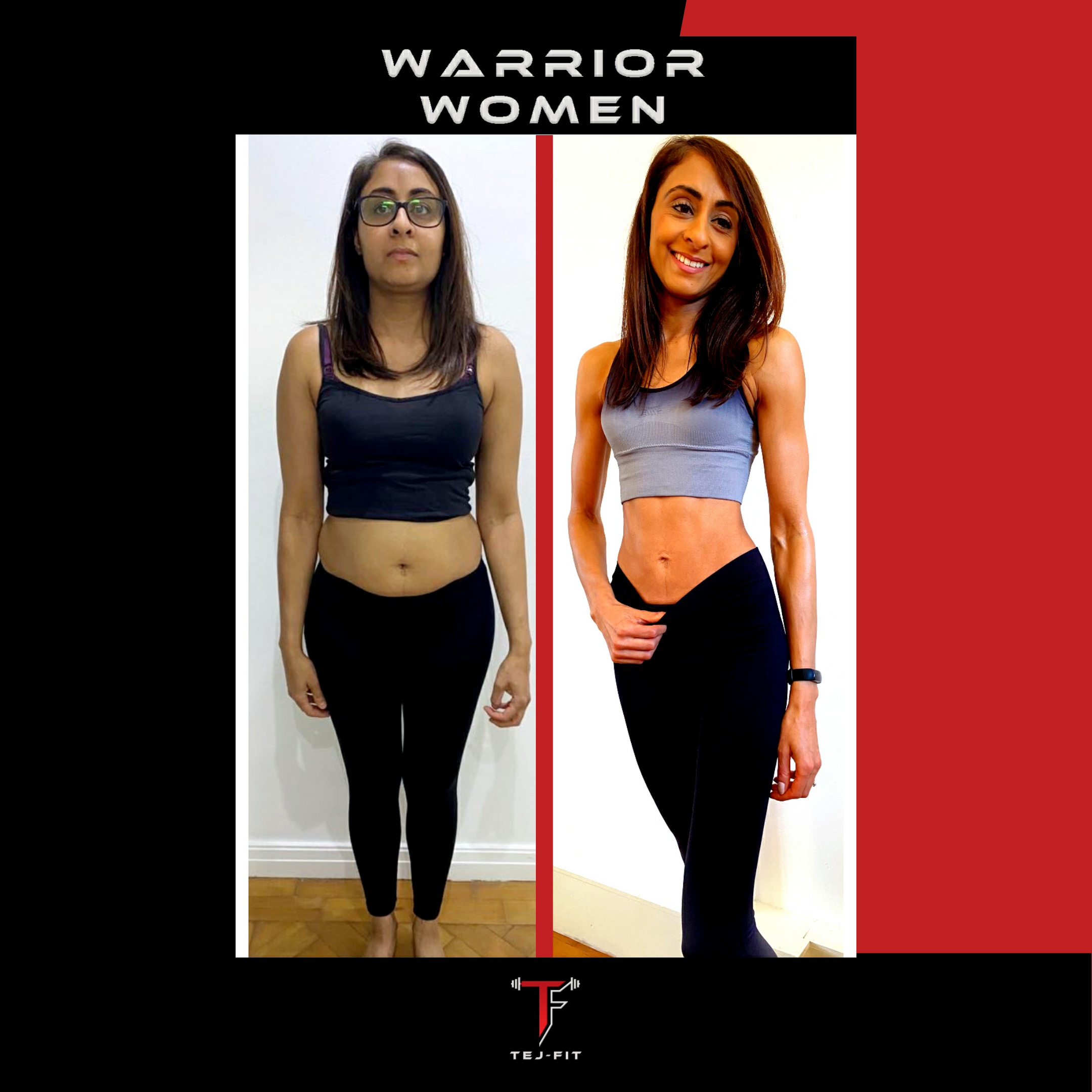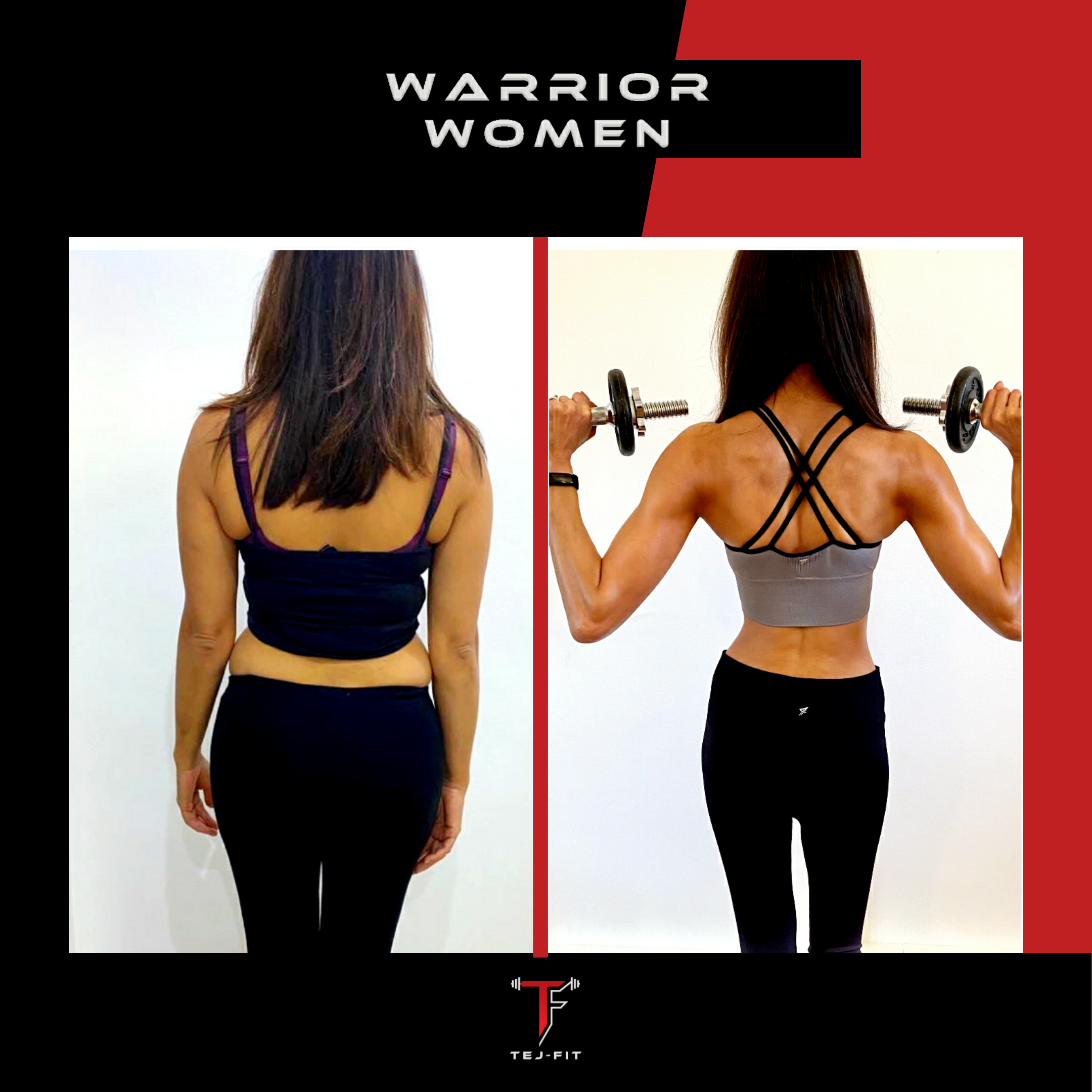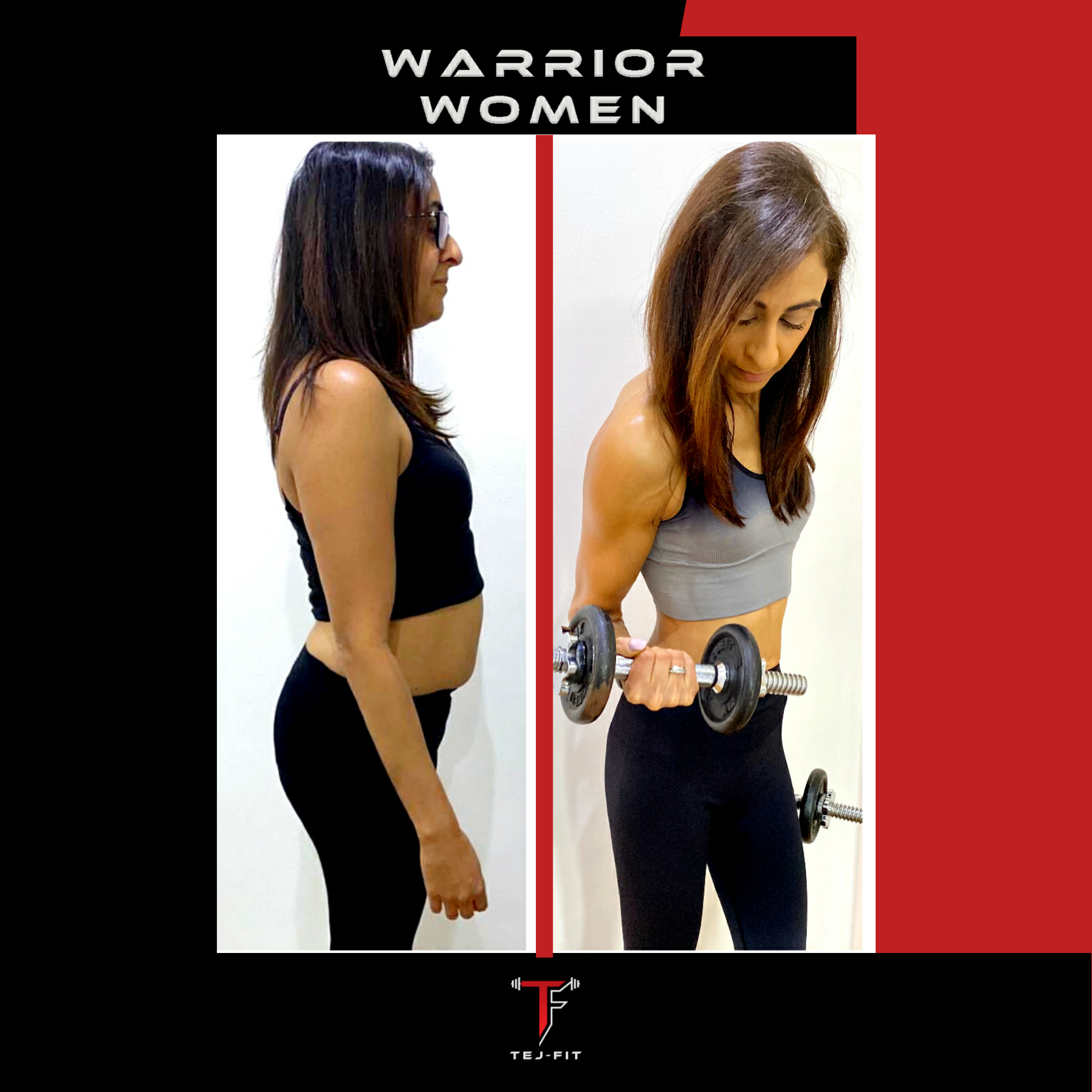 "I found Tej by accident on Social Media but clearly for a reason and I am eternally grateful that I did. Tej has helped me get results I never believed I could achieve. She's helped me regain self confidence, self love and completely transforming my relationship with food & exercise through educating me on what my body really needs. 

Tej's personable nature, support and encouragement throughout the programme is remarkable. She takes the time to understand what's important to you and why, before preparing a bespoke plan to help you achieve your goals. Tej is flexible and will be accommodating but will also challenge you to think outside the box to help you stay on track and achieve results.

I highly recommend Tej for your body & nutrition transformation journey."

DOLI
"I highly recommend Tej to anyone who wants to become a better version of themselves physically and mentally. When I joined Tej 4 months ago, I  was overweight, always tired, always down and suffered from IBS. I saw one of her instagram posts and it really hit home with me.

In her phone call to me, she could hear that I was totally broken.She is also a mum of 2 so totally undrestood how I was feeling. And managed her own transfomarion with 2 little kids. It showed me it was doable and not the end of the road for me. Signing up with Tej is the best thing I have done for myself! I have been happier, less snappy, and feel more alive than I ever have. I feel like me again. I quickly realised the physical changes were the silver lining.

My mental health improved! Physically I have dropped 8.5kg so far and have noticed a significant change in my body – in just 15 weeks, my umbilicus is down 17cm! I can actually see my toes and my IBS has improved vastly. Ive had lots of comments about how much younger I look and how I have inspired them too!

The journey hasn't been easy but it's part of the growth and mindset change. Seeing what I am capable of has left me wanting more and this is just the start!"

REENA S
"Tej is my amazing kickass PT!

Demonstrating exceptional results is her middle name. She is the perfect combination of tough and warm. Tej works with you on a truly personal level nd by that I mean mentally, emotionally and physically.

Just when you are ready to give up, she will enable you to see a better, bigger, stronger version of yourself.

Nothing is too much, she really does give her all to all her clients!

I am stronger mentally and physically because of her. She's an inspiration to all the women out there trying to multitask everything. I would recommend her in a heartbeat."

BHARTI L
"After trying, with varying degrees of success, to get my fitness and physique back on track following two children and a doctorate, I found Tej.

I'm so glad I did! in a short space of time I've managed to become healthier, happier and more productive. as a bonus my confidence has grown massively as I feel happy when I look in the mirror.

I love how Tej is an advocate for strength, fitness and self-care; not another one of those people trying to capitalise on the insecurities women have, largely down to the continuous mixed messages society projects our way. The support group she had created has been filled with support and positivity. My only wish regarding Tej was that I could have found her sooner!"

ABIGAIL M
"I recently finished a 24 week programme with Tej. It has been quite a journey and I've learnt so many things that have really helped me achieve so much. Being able to put my health, exercise and food first has really helped me to focus more clearly on all parts of life, renewed my confidence and helped teach my family about how important it is to look after your own health. 

I've lost over 21 cm from my umbilicus and over 15kg in weight over the time, but more valuable are the lessons in food prepping to stop myself getting tempted, the importance of strength exercises and now being confident that I CAN do this, even with young babies, lack of sleep and a really busy, stressful job. Tej has been so inspirational and motivational and kept me going through this time and everything I have learnt is continuing to help me achieve the rest of my goals.

Thank you Tej, it's been a great journey with you! x"

PRIYA D
Things You Need To Know Before Our Call…
What is Online Coaching?
This is where the results you have been waiting to achieve for so long, are built by us in a TAILOR made programme with specifics around your nutrition, your training and your mindset and habits – with YOUR lifestyle in mind.
Whether you have a busy job with kids or you are going through peri/menopause and feeling like there is no hope, we will build all aspects of your programme around where you are now, to take you to where you want to be.
No more waiting for PTs to be free t the same time as you, doing all sorts of random sweaty workouts bt not seeing the fruits of your labour.
No having no idea what to eat to support your physical efforts and no overdoing it in the wrong places to hold you back from being and looking your best – no matter what your age!
Because with Online Coaching with Tej-Fit you will get:
Accountability
Training plan built for you and your body and fitness goals
Tailored nutrition
Specific habit building
Community of sport
Education
Encouragement to DREAM
Empowerment to up level your performance 
I  Need Super Quick, Convenient Nutrition In My Busy Life
I Just Don't Have Enough Time
How Long is the programme?
We take clients on for a period of 6 months or more to achieve not just results, but results for LIFE.
12 weeks creates habits but those habits can be replaced with the old not so good ones after a short stint, but that's why we focus on turning those new habits into disciplines so that you have the foundation to KEEP the results you get, and build your dream life and body on those! 
My Problem Is I'm A Foodie
Can I Train From Home And Get Great Results?
I Don't Know How To Train…
When will I see results?
You will start feeling less sluggish in the first 1-2 weeks but from that 2nd week you are also going to start SEEING changes physically – things fit a little less snuggly, the waistband leaves no marks on your midriff or belly area and you start feeling more energetic and also, STRONGER!
The most visible changes will be seen from weeks 14 to 21 and then through further cycles, the progress will be more specific and so we advise you not to buy new clothes JUST yet! 
How Long Will I work With Tej Fit?
I've Found Cheaper Coaches
What are the basics I will need for my journey?
We recommend the following items from the start of your journeys:
Digital scales for food
Digital scales for your body
Adjustable Dumbbell and BArbell set if training at home
A sports watch (just to track steps at minimum )
Shaker Bottle
And a growth and determined mindset!